The size of this garden is about 4 acres. So far, we have made four business trips (each trip required us to stay in Atlanta for a month or so). This project includes placing/setting various size of rocks / stones, creating/decorating two ponds / three waterfalls, planting trees / plants, building bamboo fence / bamboo shack and setting ground covering.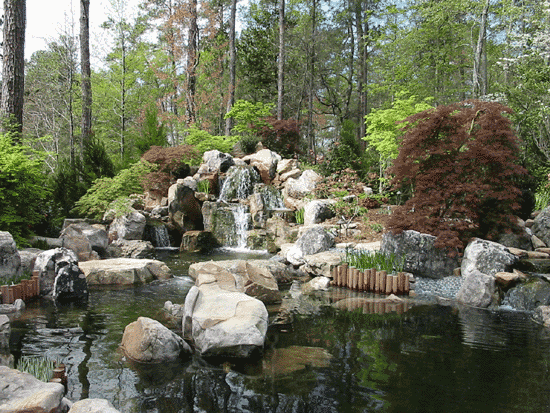 Large pond and waterfall. This picture could only contain half of the pond that is 6 ft deep. Japanese carps are already swimming in there. The waterfall is about 10ft tall from the surface of water.

Large pond and small waterfall. There is a "Kame Ishi beach" at the bottom on right. It has uncountable black pebble stones set one by one by hand. It continues about 7ft long in angle to the bottom of the pond...the shape is like a half corn. The bottom line spreads out for about 20ft long.

The other half of the pond viewed from the large waterfall. The garden continues to the green in the back where it is at a slightly lower level than the large pond. A small pond is located at the lower part.

The large waterfall. It holds three streams at the left, right and in the middle.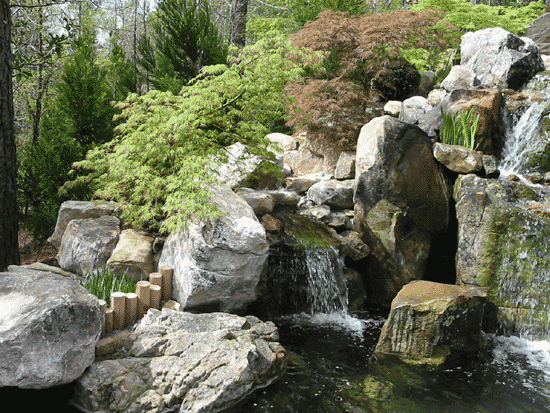 The large waterfall featured its left stream. There is "Rangui" at next to the stream. "Rangui" is made by cedar poles set at random level on purposely. "Ran" means "out of order" and "gui," originally pronounced as "kui", means "pole" in Japanese.

Stepping stone path.

The large pond and waterfall. There is a side path along the pond on right hand side.

The side path with stepping stones along the large pond. It successfully creates tranquil atmosphere as the concept of Japanese garden.

The small pond. Far back, there is the large waterfall streaming down to the large pond that is not able to be seen in this picture because of the lower level of picture view.